Flexible Couplings-Changeable Diameter
14.2mm wide steel,202, 302 stainless steel. 8mm hex-head. Synthetic rubber loops.

1) Flexible PVC or other Rubber gasket
2) Clamp: band, Housing and screw all stainless steel
3) customers' specifications or drawings are welcome, all the materials, finishing or other
requirement of the products based on the customers' requirement. If you have
similar requirements, please send the drawings or the specifications to us for
reference.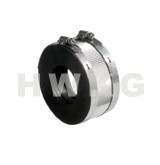 Flexible Couplings-Changeable Diameter